Every year, approximately 114,678 thousand megawatt-hours of electricity are
generated
from utility-scale solar panels in the United States. That's 2.2% of the United States' annual electricity consumption. Since the cost of solar panels has dropped nearly 70% since 2014, production and use of solar energy have become increasingly popular, with the solar market projected to be valued at
$202.5 billion by 2026
.
Many of us assume that more solar in the market is always a good thing, but it's important to consider some of the negative outcomes of producing large-scale solar infrastructure. In particular, we need to confront the way that some of the world's top solar manufacturers have been tied to human rights violations, such as forced labor. Advocating for a
just transition
to renewable energy is critical at all stages of energy production, and understanding the flaws in the energy manufacturing chain is a critical step in ensuring that our society's energy transition is as equitable as possible.
So, what's really going on within the solar supply chain? And what can we do to tackle this challenge? To start, we need to understand what a solar panel is made of.
What Is A Solar Panel Made Of?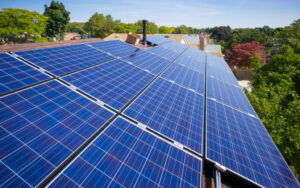 Monocrystalline (mono) panels are the most commonly produced solar panels worldwide. Mono panels have taken hold of this space given their high average efficiency rate of 20% (panel efficiency is determined via a ratio of energy hitting the panel from the sun vs energy produced by the panel). Mono panels, like all solar panels, are made of a series of photovoltaic (PV) cells that absorb energy from the sun through a semiconductor. When the sun's energy hits the panel the cells "excite" (vibrate) and these vibrations produce electricity that can then power your home. 95% of solar modules rely on one primary material for their semiconductor– solar-grade polysilicon. 
Luckily, silicon is also one of the most widely researched and available materials on earth, given that it makes up more than 30% of the earth's crust. Who can actually process raw silicon into a product that can be used, however, is an elite list. There's a Big Six in terms of silicon production. Five of these companies are based in China and one is a US-based company.  Chinese-headquartered companies dominate at each stage of production, making 77% of the world's polysilicon, over 97% of polysilicon wafers, 83% of solar cells, and 74% of solar modules that we use to build our clean energy.
The shocking reality is that solar energy oftentimes isn't really "clean" energy, because it's being made cheap by a persecuted minority in deeply unethical conditions.
Human Rights and Solar Panels
If we dig deeper, we find that silicon production has been linked to forced labor at several Chinese plants. Around 40% of global polysilicon (the semiconductor used in solar panels) comes from the Xinjiang Uyghur Autonomous Region (XUAR), which is reported to be made with state-sponsored forced labor. Eleven different silicon producers in XUAR have been tied to forced labor. 
Further, between 15 and 30 percent of the cobalt in lithium-ion batteries (widely used to store solar energy) comes from informal mines in the Democratic Republic of Congo, where forced and child labor are common. 
Human rights violations in the XUAR have been recognized as genocide by the U.S Government since the final days of the Trump Administration. President Biden reaffirmed this condemnation of China on the campaign trail and again during his presidency when he signed the Uyghur Forced Labor Prevention Act. This bill passed with near-unanimous support in the House and Senate and is Washington's first real effort to police supply chains that exploit persecuted minorities. It wasn't, however, the first time the government had stepped in to interfere with trading solar technology.
Setting The Stage: A History of Solar Tariffs
The solar industry has dealt with ever-changing tariffs for decades. It began in 2012 when the Commerce Department under President Obama imposed sanctions on Chinese solar imports in response to findings that Chinese manufacturers were benefiting from unfair government subsidies. This practice, known as "dumping", is when a company sells its products in another country below the cost of production with the help of that government in the form of subsidies, causing unfair competition in the market. But, these sanctions had a loophole: tariffs could be sidestepped by Chinese companies. The tariffs did not extend to solar cells, meaning that companies could circumvent the policy by assembling panels to be sold from a country exempt from US sanctions, made completely of Chinese cells. Within this loophole oasis, Chinese companies were allowed to continue growing their already oversized influence on the market. 
Six years later in 2018, President Trump signed a presidential proclamation imposing emergency tariff restrictions, known as safeguards, over the next four years on U.S. imports of crystalline silicon PV cells and modules. The tariffs were designed to curb foreign solar imports, giving U.S.-based manufacturers a leg-up in the American market, and stall the growth of renewable energy. As a direct result, solar development in the US slowed down just as the industry was beginning to become cost-competitive with fossil fuels. 
The Biden Administration very recently renewed these tariffs with a few changes: the tariff rate quota (the total amount of potential solar energy that could be imported) was increased from 2.5 to 5 gigawatts. Also, bifacial panels were excluded from the new tariffs, which are the most commonly used panel in utility-scale projects. President Biden also imposed a two-year freeze on any new solar tariffs, offering temporary stability in the market so that developers could move forward with large-scale projects. However, the dumping loophole established under the Obama administration remains, offering no significant curb to Chinese dominance.
To understand further what U.S based solar developers are doing to curb the importation of solar parts manufactured with forced labor, we spoke with James Manzer, C&I Sales Director for ReVision Energy (ReVision). ReVision is a 100% employee-owned, B-Corp-certified, full-service renewable energy contracting company that serves the greater New England area. ReVision is Solstice's primary partner in project development.
The incredible recent rise in demand for solar energy should raise the alarm bells that growth in the market will also mean perpetuating the human rights atrocities we have today. What can solar developers do to use their energy choices to influence these circumstances? Our interview with James highlighted five important steps for other solar developers to take:
Become a certified B-Corp:

Becoming a certified b-corp is a legal designation that verifies a certain standard of performance, accountability, and transparency on factors including environmental impact, charitable giving, supply chain practices, input materials, and more. This certification is at the cutting edge of economic systems change, and while it's a challenging certification to receive, with it all solar developers could be subject to oversight that would ensure higher standards of equity in the supply chain. 
Join a Solar Cooperative like the Amicus Solar Cooperative (ASC):

ASC is the first 100% member-owned solar purchasing cooperative in North America. By joining ASC, ReVision was able to increase its purchasing power in the solar market and use the collective power of other developers within the cooperative to exact an oversized influence on the global market. Their combined purchasing power will encourage shifts in the supply chain, and the more developers that join the cooperative, the better. 
Sign the Solar Industry Forced Labor Prevention Pledge:

This is a written commitment of firm opposition to any forced labor in the solar supply chain. So far, more than 310 companies have signed this pledge, and more could easily follow.

Follow The Solar Supply Chain Traceability Protocol from SEIA:

This set of recommended policies and procedures is designed to do two things: identify the source of materials in a product and trace the movement of these materials throughout the supply chain. It is also designed to help solar companies meet their U.S import compliance requirements. Finally, it incorporates a third-party audit mechanism to ensure compliance with the protocols.

Educate consumers:

As James mentioned in our interview, consumers have the right to ask tough questions of their developers. Solar developers should therefore take active steps to acknowledge the presence of forced labor and be transparent about their actions and intentions to avoid it as much as possible. Educational materials on the website, webinars, and newsletters are all great ways to educate and encourage action on this issue.
Looking Forward: A Just Future For Solar 
Acknowledging the dark side of solar is imperative to ensuring that the transition to a new clean energy future does not replicate the inequities of the past. We know this comes with challenges: moving away from forced labor alone would require a global shift in priorities from the cheapest possible option to the most beneficial option for everyone in the process.
The amazing thing is that by confronting these challenges we have an opportunity to build something new that's better than anything we've had before. A society that's aware of what's happening up the supply chain. One that makes decisions collectively and with a vision for a brighter future. That follows the best practices that we learned from ReVision, and looks to actively better itself with new information and resolve for equity.